I had made my kitty a pretty nifty cat litter/bed/food area a while ago.
And while she loves her bed and I love that we can't smell her cat litter, the dog has become an issue. I am going to have to make her a bigger covered litter, so that the dog can't stick his head in and (warning, disgusting remark coming) get himself a "treat". Yes, Diego eats cat poop when he can get it. It doesn't happen very often, but enough so that I think it is an issue. Bigger dogs wouldn't be able to get their head thru the opening, but my little puppy grabs the plastic liner, pulls the litter to the edge, and then grabs his snack. GROSS.
About 2 months ago, I bought 2 really heavy duty end tables off the facebook auction for $3.00.
I wasn't sure what to do with them, so they have been gathering dust (obviously) while sitting in the garage.
I was trying to figure out what to do with Munchkin's bed, when I saw some cool pictures on pinterest and decided to make a kitty bed out of this.
First, I took the doors off. Sorry, first I cleaned the dirt off, then I took the doors off.
The furniture has a split down the front, but it is so sturdy and not in danger of falling apart, so I didn't even bother to fill it or anything. I just got out the pink, yes pink, paint and started painting. John wasn't happy that I was doing it pink, but he will come around when it is finished.
And, since I ALWAYS use my trusty walnut stain, I went about staining and wiping, until my cloth was disgusting and my fingers were brown too.
Of course, I used material on hand for the bedding, and glued some of Abby Sue's jewels over the holes made by the doors. I wasn't going to spend a fortune on this, just in case my idea sucked. Well, what do you think? Does it suck?
I don't know yet if Munchie likes it, because the dog keeps chasing her away from it. I'll post a pic once she actually gets a chance to try it out.
Now that I see it in pictures, that crack in the front is driving me nuts. I will have to think of something funky to do (that the cat can't chew off) to hide it. Any ideas?
Partying here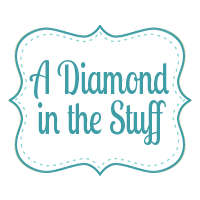 Pin It