I got a fabulous little side table from the online auction for - get this - $1.50!! The top was missing a piece, but I didn't care, because it was $1.50.
Great bones, eh? I was thinking about going a funky colour and adding some sort of stencil. While mulling it over, I got an unexpected surprise. A great friend, who sells my crap, buys my crap and generally puts up with my crap, gave me a gift certificate for my birthday from Michaels. Yee Haw!!! Off I went.
I found some absolutely fantastic scrapbooking paper for 99 cents a sheet. So nice.
I haven't modge podged anything in a long time, so I decided to try something new. I took the side table apart and began painting with a shiny black paint. Note to self: wear gloves next time. It took me about an hour to paint the table.
I put it outside in the garage to dry overnight. It drives John CRAZY when I paint in the livingroom. Oh well, he needs to get used to it. That is where the tv is. LOL.
Next, I started to modge podge the shelf. It was really nice paper and went on quite well.
So very, very pretty. I was planning on selling this piece, but I fell in love with it.
1/2 way done
It is so shiny and pretty and new! I LOVE LOVE LOVE this piece.
I just finished it and I can't stop staring. Even John likes it. Of course, he thinks I am going to sell it and wants half of the money. WRONG! This one is definitely staying at my house.
Let's break down the cost of this project.
Side table - $1.50
Scrapbook paper - $3.00
Paint - $0 (already in the house)
Total cost for this is a whooping $4.50.
I am going to place this where everybody can see it. I am pretty pleased with this one.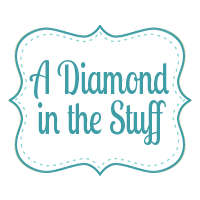 http://diyshowoff.com/category/other/that-diy-party/
Pin It