When Abby Sue asked if we could do her room, I told her she could pick out the paint colour herself. As you may remember, she decided on Buzz Lightyear Blue. Not my pick, but it is her room. Anyways, I thought I would be smart and buy a tester of the colour and see exactly what it looked like. Thank god I did.
The colour was sooooooooo not what I wanted for her room. Her dresser is a pinky/purple colour. Her reading chair is yellow. I just could not see being able to match anything to this colour.
I decided to see what she would think if I asked her to pick another colour. Her exact reply was "No mommy". Until I said, how about we paint it pink? With no hesitation whatsoever, she YELLED yes!! We went to Home Hardware and picked out the colour Ballerina Pink.
The colour is very soft and subtle, with an almost purple tinge to it. I bought the paint with the primer in it, but it still took me 4 coats to cover all of the lime green and flowers. It is hard to tell in these pictures, but it is quite pretty.
It took me about 5 hours to paint everything, so I didn't even get started on the ceiling. I did put her furniture back in and she really likes her new room.
Since I promised her 7 things for her 7th birthday, I have been a very busy mommy.
#1. Paint her room. CHECK
#2. Make her a jewelry holder. We actually did that last week. We took her corkboard
and hung all of her jewelry on it. She thinks it rocks. So does Munchkin, who keeps knocking things off and running away with them!!
So, #2 - check
#3 - she wanted a reading corner. I had already made her the big bird chair. I then took her old footstool
and covered it with the material that I had wanted to put on her chair. She actually likes it on the footstool
I had bought an old copper stool from goodwill about 3 months ago and hadn't even taken it out of my car. I sprayed painted it with ORB and put it beside her reading chair (sorry, no before pictures of the stool)
#3 - reading area - Check
#4 - My hubby and I always call her sunshine, so she asked for a You Are My Sunshine picture. I got a crappy canvas picture from Goodwill for $2.02
Then, in a moment of genius, decided to use the Buzz Lightyear Blue as the background
A little bit of stencil, a little bit of black paint, and, voila!, #4 is checked off the list.
#5 - she wanted a full length mirror on her makeup table.
Back in the summer, I had literally grabbed a mirror out of someone's hands at Goodwill's 1/2 price Friday. It was large, brown and kind of gross, but I always knew I would do something with it and put it in Abby Sue's room. Well, let's check off #5, because I painted it and put it where she wanted it to go.
#6 - she wanted funky covers for her light switches. I bought some glittery scrap book paper from the dollar store. It came in every colour of the rainbow.
I was trying to think of a way to modge podge without the glitter falling off, when I discovered that the papers actually were sticky on one side. Ya to the Hoo.
She picked out two very bright colours and I proceeded to cover the switches.
They are soooo cool. When I show her whole room, I will make sure to get a picture of them as well.
So, numbers 1 - 6 are done. Number 7 is painting the ceiling, which I am going to attempt tomorrow. For tonite, I am too tired to do anything other than have a nice hot bath, read a semi-dirty book and go to sleep.
Here's a sneak peak of how much Abbs loves her new room
That's right, she could care less - as long as she can lay on her bed and watch Veggie Tales on the Ipad.
Linking up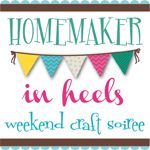 Pin It