I showed Abby Sue a picture of Sassy Sanctuary's tutu table and she HAD TO HAVE ONE. So, being the wonderful, pushover mom that I am, I said I would make her one. She has a white table that her grandmother bought her years ago for her tea parties. It was nice, but boring.
I got some wonderful green fabric and replaced the top of the table.
I then bought some pink tulle and attempted the table.
As you can see, it didn't work out too well. You could still see the white thru the table and I couldn't buy anymore tulle, as the only fabric store in Orillia didn't have it in stock. Also, it was too difficult to work with a full piece of tulle.
No problem. Abbs decided she would rather have purple anyways. Such an easygoing, sweet child.
Not to make excuses, but being left handed can sometimes make even the simplest things difficult. So, back to the drawing board.
This time, I bought twice as much fabric. I cut the fabric into strips and stapled it closer together. I am quite pleased with the result.
I know most people use a round table for this, but I couldn't justify buying a table when we had one already available.
So, look below and see the finished product.
We just love it. It looks so quaint and charming, without being tacky. Love, love, love it!!
I do want to add a bow to it, I just have to find one already made (because I can't make them) or sucker somebody into making me one. Any blogs that have a tutorial would be appreciated.
FYI, this is what happens when Diego tries to help
UPDATE:
I attached a bow. Love it so much better
Linked this post to
and

and here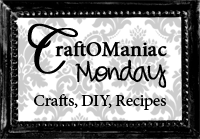 and here
and here
Pin It