For the longest time I have been wanting to make a cool, unique bench for my room. Cranky pants here
throws his clothes on the floor in front of the walk in closet, so that I can't get in the closet in the morning to get my clothes for work. I figure if I make a bench, he might have a different place to throw his clothes (one can only hope).
I went to Goodwill last Friday and got this for $3.03 (where do they come up with their prices?)
I figured I could spray paint it a nice crisp white and add baskets in the bottom shelves to put my books in (instead of throwing them under the bed).
I bought this really nice material
which will look great with the green in my room.
I got out my trusty spray and went to town. I sprayed two coats and noticed that the wood looked kind of funny. The edges on the door started curling up!!! That is when I noticed that my "wonderful little stool" was becoming a beyotch of a bench!! Turns out that the table was not made out of wood. It was made out of heavy chipboard and then covered in MAC TAC!!! I didn't even know that stuff existed anymore! I ended up peeling the mac tac off and tried sanding the wood again. The whole bottom ended up gross and hunks of the chip board came off. Sigh.
That was when the got the great idea to cover the bottom of the bench in the same material as the top of the bench. Got the glue, scissors and staple gun. Not too shabby, I must say.
I bought a piece of MDF from Home Depot and glued my foam on it. Then I stapled my material on the board. Then, I got out my trusty Gorilla Glue and glued the board to the top of the table.
I still have to buy some baskets. I had picked up a pair from Wally World, but they were too big. Oh well, good excuse for me to take a day trip somewhere fun! Once I get them, they will finish the piece right off. I just love it when I get something finished. What a sense of accomplishment. My first big piece since my cast came off. Look out DIY world, I'M BACK!!!!
UPDATE:
Me, being me, can't wait to finish, so went to Bouclair today and got some nice baskets for $7 each. Looky at my new bench!!
Linking up at: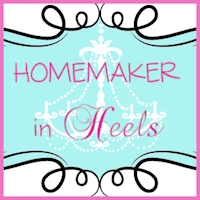 Pin It