Today is the Valentine's Edition of Never Growing Old's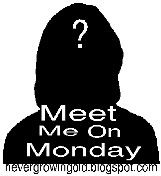 Here are the questions:
1. Did you get any Valentine's Gifts?
2. What is your favorite topping on something toasted?
3. Do you pick out your outfit the night before?
4. What food item do you absolutely despise?
5. Righty or lefty?
---------------------------------------------------------------
1. We don't give Valentine's day gifts - except to my daughter. However, for the first time in 8 years, my husband remembered it was Valentine's Day and wished me a happy day before he left for work at 5 am this morning.
2. I love toast with field berry triple fruit spread!! Have it on Weight Watcher bread and you can have 4 pieces instead of 2!!
3. I never pick out my clothes the night before. I am like a tornado in the morning trying to figure out what to wear
4. I absolutely despise PEAS. They are so gross, squishy in the mouth and mushy. BLECK
5. I am one of God's chosen - a lefty!
Pin It