So I just went to this cool blog called Never Growing Old and linked up to her party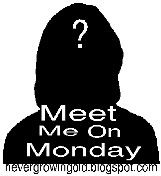 Here are the 5 questions she asks and my answers
Questions:
1. Did you watch the Superbowl?
2. What is the last book that you read?
3. What is your favorite kind of cake?
4. Do you snore?
5. Do you play an instrument?
---------------------------------------------------------------
My answers:
1. Hell no!!! Hubby was working nights, so me and this angel
ate our favorite snack:
painted our nails and watched this:
2. The last book that I read was by my favorite author, Suzanne Brockmann
3. I don't really like cake, I love me some of my mommy's homemade butter tarts!!!
4. Do I snore? Damn right I do!!! I have woken myself up many a time like a conductor pulling on the whistle!! My daughter snores and my hubby snores. When he isn't snoring, I can't sleep.
5. I took piano lessons when I was little, got pretty good, then stopped for no apparent reason. As long as I don't sing, I am not bad at it.
There you go bloggers. 5 things about me that you probably never wondered about.
Pin It