Well bless my soul
What's wrong with me?
I'm itching like a man on a fuzzy tree
My friends say I'm actin wild as a bug
I'm in love
I'm all shook up
That is exactly how I felt at Fabricland last week.
Wait, wait, in order to tell this story, I have to start at the beginning.
When we were going to sell our home (we aren't anymore), we painted all the walls a neutral light gray colour. I hate it, because I love bright colours, but it cost me $1,700, so I am going to have to live with it. At the end of our hall, we have a buffet that I painted black. It looks like this:
I decided that the buffet would make a perfect tv stand for our new plasma tv that we got for Christmas. The hunt for a new table began. While at Goodwill, I found this for $10
It is actually an old makeup table, with a mirror inside and a deep space for "girlie things". I thought it would be perfect for Abby's colouring books and we could put her spare paper in a bench. Oh, my mind was working overtime with this one.
I sold Abby Sue's giant purple desk that was in the spare room and I want to use the finished desk/table in the hall, with her markers and pencil crayons hanging on the wall like this:
That will add some character and put a smaller table at the end of the hall.
I love the turquoise colour that is all the rage, and I wanted to do the set that colour. Megan over at
has a lovely table in the same colour and I wanted mine that colour too.
I wasn't sure what fabric to put on the bench. I found some pretty gray/yellow/red paisley fabric. It was kind of boring, but it would do the trick.
UNTIL
I found some wonderful ELVIS material.
OMG
My hands are shaky and my knees are weak
I can't seem to stand on my own two feet
Who do you thank when you have such luck?
I'm in love
I'm all shook up
I was so excited that I bought it!!! I told my friends about the fabric choice. They all laughed at me and said it was tacky. Sigh, why don't people think outside the box and take risks? They thought the same about my fabric choice for my roadkill rescue chair, then loved it when it was finished.
Well, I was bound and determined to prove all of them wrong. Nothing brings out my stubborn nature more than somebody not agreeing with me. Yes, I am contrary that way.
Last night was New Years and we had absolutely no plans at all (which was great with me). So, after a huge dinner of homemade nachos (which made me full for about 3 hours), I started to work on the desk. I had bought a tester paint sample at Home Depot because I wasn't sure about what colour I wanted to use. Well, this colour was perfect. Abby Sue came down while I was painting and declared it her new favorite colour!!
I was going to distress the table so it wasn't so blue, but I really, really loved the colour. What to do? I decided to go bold with the hardware. I liked the design of the knobs and was planning on keeping them, but painting them. I went with a colour called Plum. I love it
I love how the colour pops against the blue. I was going to take the inside mirror out and replace it with a cork board, but it was in there pretty solid and I didn't want to risk 7 years bad luck by taking it out. I decided to paint over the mirror (which is a really hard thing to do) and put some bling in it's place
I had some wallpaper left over from my light covers project and added it to the bottom of the desk
Now to the bench.
Abby Sue has one in her room, but it is too big for her makeup table.
I painted the legs, then lovingly applied the fabric.
I'm in love
I'm all shook up
What do you think? Too tacky or too cool?
I love this project. I love how it brings some colour to the hall. I know that it is pretty small and the hall looks like it it missing something, but once I get the rest of the it finished, I will share it with you. But for now, what do you think? Is Elvis still alive or has he left the building?
Linking up and partying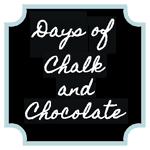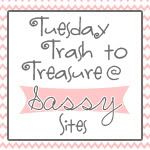 Pin It